With Synergy, you have the option to purchase Konstruct. The Synergy software brings together information from the office-based Konstruct program and the field-based Konstruct Mobile with Roper Whitney's technical support program Konnect.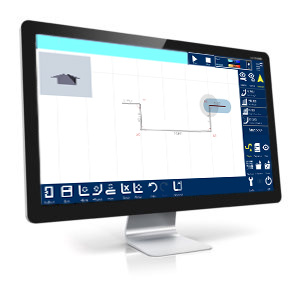 Konstruct is a new innovative software package created and used exclusively by Roper Whitney. This in-office software package allows the office to communicate directly with the Synergy control on the machine. From the office the administrator can create, manage and monitor the activities on the folding machines.
Benefits Include:
Create or manage jobs
Easy Windows-based navigation
Create job list for each folder in your shop
Real time knowledge of what jobs have been completed
DXF file import capability
Eagle View® option
Greater Control
Parts are created the same way as they would be on the machine. It is as simple as drawing the shape with the correct angles and dimensions and the software des the rest.
The part is then automatically sequenced so that the proper bend order is followed. The type of material, number of pieces and any other information is entered and the job is ready to be run.
The administrator can then see what jobs are waiting to be run, what is in process and what has been completed giving you greater control over your shop processes.