The SYNERGY control manages all the machine motions (upper jaw, lower jaw, back gauge and bending beam) the software has a feature intuitive interface that allows an easy management of product drawings. During the operation of the machine, the SYNERGY control shows in real time the bending sequence or a single fold, with the position and movement of various parts (upper jaw, folding beam and back gauge).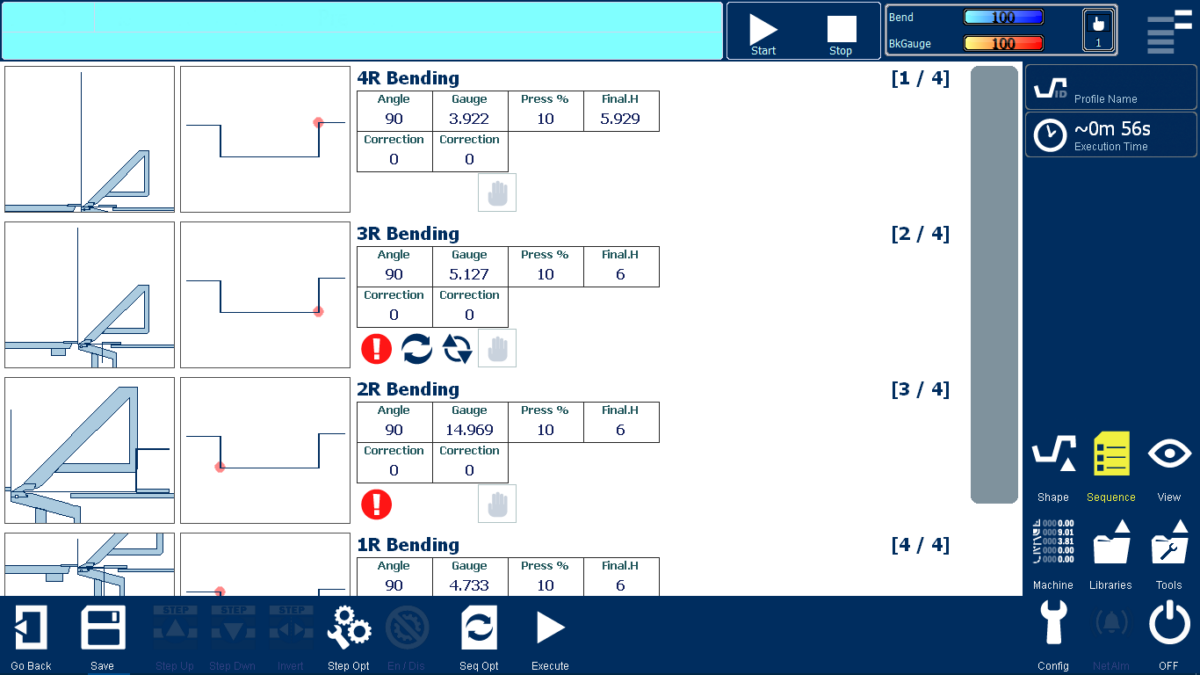 Technical Data
Automatic sequencing of the part that is drawn.
Possibility of saving programs in folders and subfolders.
3D Part display.
Part simulation to verify bend sequence, material handling and collisions.
A search function is used to make it easier to identify a part.
Export of programs, library materials and back up to USB stick.
The actual values of the axis are shown on the display, as well as the motion of the machine in real time.
There are 3 different hems : Open, Closed or Tear Drop.
Capable of importing DXF files.
Konstruct offline programming
Konnect online service and operator assistance.
Simple and Reliable
Entering data directly on the screen, if errors occur, you cancel your choice with a click (button "undo" or "redo"). The profile can be drawn, edited and saved directly on the screen (touch screen mode) and data, such as length; angle and radius can also be entered manually, by selecting the affected side.
Graphical user interface complete with zoom, rotation, displacement, vertical and horizontal with a simple touch on the screen. Folds, round profiles, hems, and steps are inserted using the appropriate button and touching the screen like a blackboard on which to draw.
Intelligent
The Synergy control calculates the stretch out of the part as well as the notch pattern of boxes.
Precise
The bending sequence is calculated and optimized in relation to the characteristics of the piece and the actual measurements of the machine and the accessories mounted. It is possible to establish and /or modify the bending sequence calculated by the software, once "customized",  the software saves the new sequence and uses it as a first option for the following similar profiles
In the illustration of the bending sequence and simulation, there are icons that show how to insert, rotate and flip the sheet.