Description
Our AutoMax is the standard model in Roper Whitneys new American-made long folding line. This sheet metal brake is ideal for builders, metal part fabricators, roofing companies and others who create complex profiles and need the flexibility and throughput of a long folding system. The AutoMax combines automated bending of angles up to 147 degrees, material clamping,and material support into a single CNC controlled system employing wing bending techniques.
The AutoMax is a plate and weldment designed machine, delivering superior performance and features. The curved design of the C frame gives this machine a rigid foundation while reducing stress points seen in competitive makes. The linkages of the AutoMax are located within the C frame structure. This design improves machine rigidity and bending performance.
The hydraulic unit is controlled by a high speed frequency inverter. The inverter, controlled by the Synergy Control, provides quick, smooth movement of the machine. The inverter reduces power to the pump when not in use, saving energy costs. The hydraulic manifold is located at the center of the machine, which allows for even flow of hydraulic pressures, giving the machine even operation. The bending leaf is powered by two cylinders and guided by 5 linkage sets.The electrical cabinet is located at the right side of the machine in a quick lock enclosure along with the Synergy control.
The curved C Frame design provides superior clamping pressures while eliminating stress points seen on competitive machines. This design allows for much more free space for complicated bends / profiles. The maximum opening height of the AM2116 is 7.87.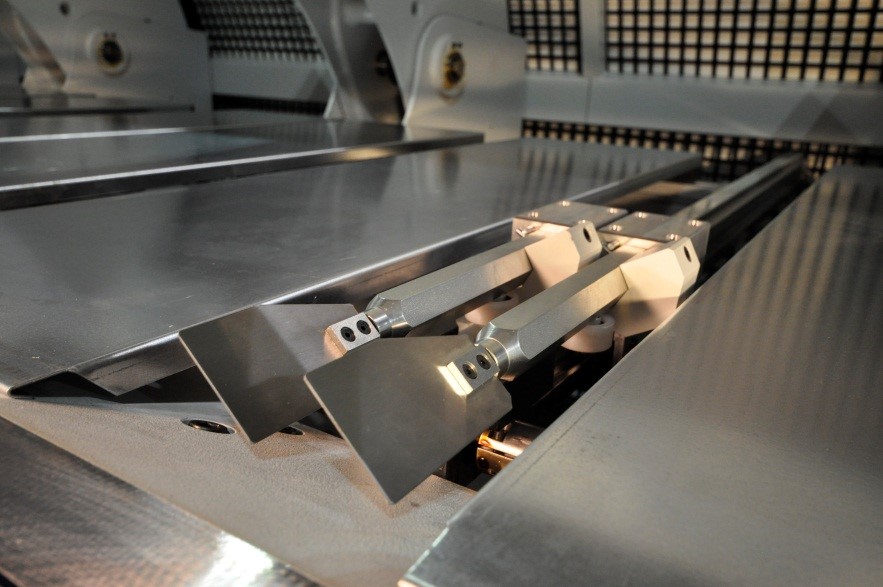 INTEGRATED SHEET SUPPORT AND MATERIAL POSITIONING
Work pieces are fully supported by the back gauge tables beneath the clamping C frames, and automatically positioned to an accuracy of +/- .004″. The back gauge is positioned by a servo motor for low noise operation.
Five conveniently spaced fingers provide positive contact with the sheet edge at all times and the fingers will travel down to 0.394″ position. The AutoMax comes standard with a small parts back gauge finger set. The small parts back gauge allows the operator to run smaller parts than are normally able to be made on long folding machines. Parts down to 4 are possible. Maximum back gauge travel can be reached in less than 3 seconds. The standard back gauge depth is 49.
CROWNING ADJUSTMENT
Crowning is also standard on the AutoMax long folding machines. Each C frame has an adjustment dial that allows the operator to adjust the angle of bend at different points along the machine.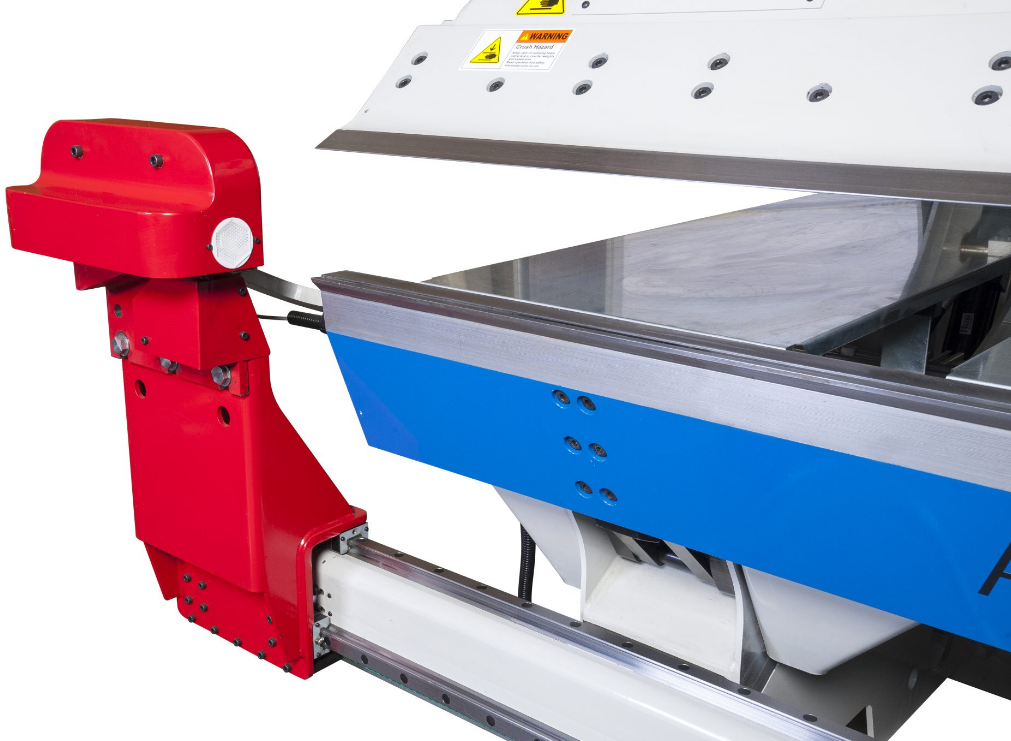 OPTIONAL SLITTER
The Slitter for the AutoMax is mounted to the lower frame of the machine, freeing the folding beam of any obstructions. The slitter is hydraulic powered via frequency invertor. The unit is guided by two precision ground linear rails. The rigid mount of the AutoMax Slitting unit allows quick and accurate cutting of material at capacity.
SAFETY FEATURES
– Laser Guarded Pinch Point
– Safety Bar
– Emergency Stop
– Clamping Beam Closure Safety
– Closing Speed Slow Down
– Second Man Pedal