Helping you make the best decision possible.
We're here before, during and after the sale so your "shopping" experience is as good as it can be. You can request a quote on all of our larger equipment including AutoBrake, AutoMax and M-Series Shears. Simply navigate to the product page and click Configure. Not sure where to start? Contact our team below or give us a call at 815.962.3011.
THE ROPER WHITNEY TEAM
Contact any of our team members for assistance.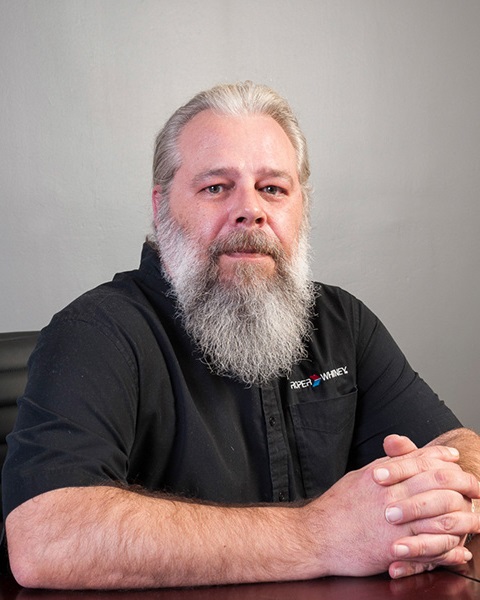 John Yeruski
Sales Correspondent – Sales, Parts & Tooling
john@roperwhitney.com
815.962.3011 extension 223
Not sure what Roper Whitney tool or equipment is the best choice for your application? Not a problem. We offer several ways to help you make the right decision.
If you're in our online store, you can use the Add to Compare feature to view the specifications of similar products side-by-side.
If you want to speak with a Roper Whitney application specialist, the first step is to complete our Application survey (link to form). This will give our team enough information to start the conversation and get you pointed in the right direction.
Do you have general questions about a specific model of our equipment? If so, feel free to use our live chat by clicking on the blue chat box at the bottom of your browser window.
Using the Online Store, My Roper
If you already have an account, you can login at any time and view your order status, order history, update your billing and payment information. If you are having problems accessing your account or are having issues with your shopping experience, we need to know right away. Contact us at 815-962.3011, or send an email to sales@roperwhitney.com.
Looking for Replacement Parts or Product Manuals? You won't find these items in our store. Please visit the Parts and Manuals page and complete the proper request form so that we can respond properly and quickly to your needs.
Roper Whitney strives to be your partner in delivering the best in sheet metal tools and machinery, as well as provide you the easiest and most convenient ways to pay for that equipment. We partner with Geneva Capital to provide a secure option for you to finance or lease your new equipment purchase.
Please feel free to ask any of our sales representatives if you have any questions.